Do you want to learn two painting techniques in one super-fun class? We got you covered! You don't have to be the "artist type" to have fun with paint. Honestly, it is probably too much fun for a Tuesday night, but we don't care. We live on the edge!
TECHNIQUE 1: VASE POURING
If you love the swirling, marbled look of poured paint art, you are going to swoon over this technique. You'll start off by choosing your vase and your paint colors. Next, Wendy Shugar, the Happy Artist, will show you how to artfully pour your selected paints over the vase to create marbled, swirly, beautiful, goodness. Your project will take at least a day to completely dry. After the paint dries, we'll seal it for you, which means more drying. Your finished project can be picked up beginning Friday, May 26th.
photos coming soon!
TECHNIQUE 2: SQUEEGEE PAINTING
If you've ever wanted to try to super-cool squeegee painting trend from TikTok and Instagram, here is your chance! Our resident Happy Artist, Wendy Shugar, will show you how to place your paint and squeegee it around to get the desired look you want. You can use stencils or just freeform your way to total creative expression. Either way, it is a whole lot of fun. You'll leave with a beautiful, unique, and colorfully painted canvas ready for framing.
Though taking home two beautiful and unique works of art might be valuable enough, your evening will also include:
Creative expression: Tap into your artistic side and express yourself.
Stress relief: Working with plants and nature has been shown to have a calming effect on the mind and body.
Improved mental health: Connecting with nature has been shown to improve mood and reduce symptoms of depression and anxiety.
Mindfulness: Crafting your mini moss garden requires focus and attention to detail, which can help you to be present in the moment and practice mindfulness.
Sense of accomplishment: Completing a creative project can boost your self-esteem and give you a sense of accomplishment.
Time for self-care: Participating in a workshop like this is an opportunity to take time for yourself and prioritize your own self-care. By setting aside time to engage in a relaxing and enjoyable activity, you can improve your overall well-being and sense of happiness.
Additional Info:
This workshop is suitable for adults and not designed for young children
Attendees may bring their own beverages. Water, coffee, tea, and cocoa are provided.
Attendees may bring their own snacks or food. Some light snacks and refreshments will be provided.
Free Parking in the Breakthrough Co Lab parking lot.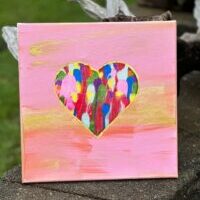 VASE POURING + SQUEEGEE PAINTING PART...
Date and Time
Tuesday May 23, 2023
6:00 PM - 8:00 PM PDT
Location
Breakthrough Co Lab
5250 High Banks Rd Ste 220
Springfield, OR 97478
Fees/Admission
$45 admission. Includes everything you need to take home 2 completed works of art.
Contact Information
Register at breakthroughcolab.com.
Send Email